7 Decorating Ideas That Won't Forfeit Your Security Deposit
Apartment decorating is the perfect way to make a rental space feel homier. Even furnished apartments (like those at The Connection at Lawrence's KU student housing community) can sometimes benefit from a personalized touch. However, if you've ever rented before, you know that painting walls, drilling holes, and making drastic changes can ultimately cost you your security deposit — and then some.
Before you consider your decorating dreams over, check out our apartment decorating tips that won't leave a mark.
Contact us today to schedule a tour of our designer apartments and find out why UArk students love calling our community their home.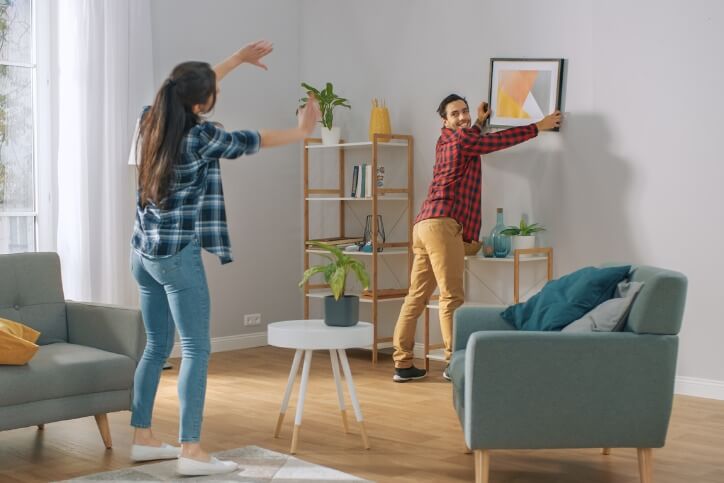 Rugs
Whether you have a small one-bedroom apartment or an expansive townhome, rugs of every size can brighten up any white-walled space. A beautiful area rug can add color and interesting shapes and patterns, all while being temporary — when you're ready to move, just roll it up and toss it into the back of the moving truck. Even if your apartment comes with carpet, adding an area rug is a perfectly acceptable design choice and can even help keep the carpet underneath safe from wear and tear. When deciding on a size, bigger is usually better.
Lighting
While mounting light fixtures to the walls may be out of the question, investing in floor lights, table lamps, or removable lighting fixtures can do a lot to change up the mood in any room. You can even switch out lightbulbs in existing fixtures, just make sure that the wattage is appropriate and remember to switch them back before moving out. Investing in a smart bulb can also allow you to switch up your lighting from ambient to accent with just a touch of a button.
Mirrors
Mirrors are perfect options for apartments because they create the illusion that a space is bigger than it really is. When placed strategically, they can also diffuse natural light from windows, making the room feel more light and airy. Full-length mirrors that can be leaned up against a wall are the best option because they won't destroy your wall, and when it's time to move, you can just pick them up and go.
Standing Shelves
While attaching shelves to the walls is a no-no (at least with traditional methods, more on that later), purchasing standing shelves is a great way to add extra storage space while giving you a stage to show off some home decor. Furniture such as bookshelves, leaning shelves, and corner shelves don't necessarily have to be anchored to the wall but still allow you to utilize that precious vertical space.
Window Coverings
Window coverings may not be an option for all apartments if the hardware isn't already installed, but if the brackets and rod are there, it can give you more opportunity to spice up your décor. Even if there is no existing hardware, it doesn't hurt to inquire with your leasing office if they can install some. Bonus tip: getting curtains that go from ceiling to floor can help make your vertical space appear more expansive.
Removable Options
There are dozens of options on the market for alternatives to traditional paint, hanging hardware, and decorative fixtures. Removable wallpapers are growing in popularity and provide an easy and non-permanent way to transform the walls in your apartment. Just make sure that you get a brand that won't pull off the existing paint when you remove it. Washi tape is also an excellent way to add decorative details to almost any surface of your apartment, including walls, baseboards, doors, furniture, and more. It can also be a good idea to consider hanging alternatives for the things that absolutely need to be on the walls, such as art, pictures, and even shelving.
Plants
Even if you don't consider yourself a plant person, there are tons of plant options available to fit every lifestyle and home space. Adding a little bit of green not only livens up the area, but can also become a meditative hobby and help purify the air in your home. If you're a novice, consider plants that don't require a lot of maintenance, such as succulents or cacti. Also, consider the amount of direct sunlight that different areas in your apartment receive and choose a species accordingly.